Fallout: New Vegas – Review
25/10/2010 in Reviews
Fallout: New Vegas, PC – £22.99, or if you don't care when you get it, The Hut have it for £22.44 when you use a 10% off voucher.
PC version review by Ben Tyrer (Tumblr)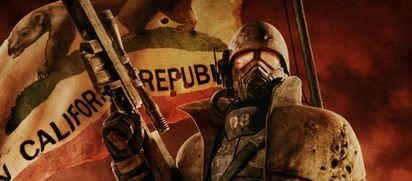 The days leading up to the release of New Vegas were something of an emotional roller-coaster for me. My anxiety was painfully high, having read the numerous terrifying accounts of it being a hilariously broken game from the onset. Had I squandered my pennies on nothing more than a broken mod? Not only that, but I received my disc copy (having decided the Steam servers were too much for my already-frayed nerves) excruciatingly early. Normally, this is an excellent thing, but the game being tethered to Steam's unlock countdown meant I was in for a gruelling wait, and the box smiling down at me served only as a teasing reminder of that fact. When I was finally presented with the game's splash-screen, I had no idea what to expect. Twenty-something hours in, here's what I think.
War. War never changes. There's something about that chilling sentiment which holds a brutal truth, and yet I couldn't help but contemplate that in the case of New Vegas, war had certainly changed. Perhaps the more obvious of the many tweaks implemented by Obsidian to the game's engine are those directly related to combat, the most fun for me being the inclusion of iron sights on weapons. The most not-so-fun was the game's desire to show me every death in cinematic kill-cam mode regardless of VATS usage but you can thankfully nip that one in the bud via the options menu. There are, of course, a slew of new weapons and the option to modify them with different ammo types, recoil-absorbers, silencers and all other manner of contraptions the likes of which I won't bore you with and this greater diversity certainly makes encounters more interesting. General combat feels more tightly tuned, and VATS remains a fiendishly enjoyable way of introducing your enemy to their makers.
However, I'm getting ahead of myself. A large arsenal of weaponry is all well and good, but you want to know whether the thing is a bug-ridden monstrosity, correct? Well, in the 20-something hours I played, I've had one crash-to-desktop and no AI quirks… Okay, no AI quirks that ruined the game for me. In that respect, then, I feel I've had with New Vegas one of the smoother experiences with this game engine. The game's as pretty as it could be running on the old girl, and I've had far more annoying visual glitches than the occasional white speck on the horizon in my time playing games.
One aspect that remains unforgivable, though, are the walking and running animations. Goodness, gracious, me. I don't know if the entire animation team are legless amputees locked away in some game-development dungeon and therefore have never seen how a human being moves itself to and fro using those meaty sticks with feet on the end, though I much doubt it. You'd think that was the case, however, when you see your character hopping about the shop like an ape with a numb posterior from having sat down for too long. It's shoddy, shoddy business and spoils the immersion of watching your character strut his stuff in the shady recesses of the strip. The big problem though is that everyone walks like this, so you have to endure your companions unsightly struggle to move, as well as any human NPC you encounter. It's a change for the sake of a change, and luckily you're able to revert back to Fallout 3 style animations via a mod, which while not perfect either are a tad less dreadful.
Oh yes, companions. That's something New Vegas expanded upon. In your travels you'll no doubt stumble upon the odd character who provided you posses the relevant S.P.E.C.I.A.L requirements or some other skill (in one instance, I needed level 50 guns) will be more than willing to brave the Mojave wasteland with you, acting not only as a loving storage mule but also a (usually) helpful assistant in combat. There's a flashy radial menu with which you can issue basic commands, and while slightly cumbersome I've found that my loyal friends are more useful than annoying to have around. They also comment on the events taking place before them somewhat dynamically, in a fashion vaguely reminiscent to Left 4 Dead or Dragon Age: Origins, which makes the whole affair feel less sterile. On that note:
OH DEAR GOD FINALLY NEW VOICE ACTORS AND THEY AREN'T SO BAD.
Yes, you read correctly, I've not heard a single voice actor who even slightly reminds me of the cast of every Bethesda game ever in the world. These are fresh, beautiful voices, and I'm sure of a celebrity pedigree here and there, though I'm far too ignorant to know or care about that. The music is superb too, with more than a few nods to the older Fallout titles, with some of the golden oldies from Fallout 2 even re-used in certain towns. An excellent nostalgic trip indeed.
And even tear-wellingly better is the fact that these lovely voices bring to life some genuinely interesting, brilliant characters who make up the populace of New Vegas. Obviously I don't want to spoil the experience for you, but rest assured the writing here is top-knotch stuff. I've been through some fantastically entertaining quest (quest? mission?) lines, and that's without selecting the trait which makes the game decidedly more 'wacky'.
Oh, yeah. Traits. Based on how you allocate your SPECIAL points, you'll be given a list of traits from which you can select two before beginning your adventure. In typical fallout fashion, they're furiously difficult to decide upon if you don't have a specific play-style in mind. There are things like the ability to shoot 20% faster but 20% less accurately, to have +1 Perception while wearing glasses but -1 when you're not, and many more. I spent ages agonising over which to pick, and ended up firing weapons 20% slower than usual but with 20% greater accuracy, and with melee attacks dealing on average a greater amount of damage, but with severely reduced crits. It's just another layer of character customization, so it's definitely welcome in my books.
Obsidian have also brought a reputation system to the table, which operates on top of the Fallout 3 karma system. Basically, if you do good by a group of people, you'll experience the benefits of your kindly nature. Screw them over, and they're liable to hate you and possibly attack you on sight. Naturally, I'm vilified with most gangs, but a good number of towns liken me to some post-apocalyptic saint. One perk from this communal appreciation was that I didn't have to pay to live in a cosy motel apartment. So whoever says good deeds go unrewarded has never helped lure a suspected traitor into the sights of an angry sniper with a strong taste for revenge.
There's probably much more to say about Fallout New Vegas, but what I've taken away from my time with the game is that while not a revolution in roleplaying games, It's certainly a blast to play, just as addictive as it's predecessor and certainly an improvement in a good number of aspects. While it got off to a rough start (especially in the optional shooting tutorial where geckos were falling through the floor), the more I played New Vegas the more polished it became. Ultimately, Obsidian have delivered the goods, ensuring Fallout remains the number one in post-nuclear simulation.
Fallout: New Vegas, PC – £22.99, or if you don't care when you get it, The Hut have it for £22.44 when you use a 10% off voucher.